VClip 1.0 is a simple tool to capture short video clip + loopback audio (speaker sound) from your screen pixels and speaker waves.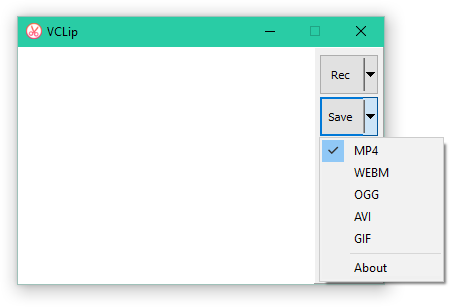 VClip can output to many format (MP4, WEBM, OGG, AVI, GIF), and comes with 3 fps options (15,25,30).
How to use VClip?
No much to say, VClip has a simple and intuitive user interface just aim, record and save :)
Compatibility and requirement
VClip Tested successfully on Windows 10, 7 (should work on 8.1, 8.0, vista but not XP), compatible with  HiDPI screens and display scaling. The faster and more cores processor the better.
VClip is totally free, also your kind donation will help me develop this software for future updates :)
Download VClip.zip 13.8 MB VClip is portable software contains:
VClip.exe                main executable file
ffmpeg.exe             video/audio encoding library
silence.wav            silence waves file
Frames folder       for storing captured frames
If you are on windows 10 it's recomended to add VClip program folder to the Windows 10 defender allowed list!?

Windows 10 defender (and other antivirus) slow the process of writing data to hard disk,  by checking every data written to hard disk, in case of VClip that's would slows the VClip process of freeing memory and writing frames into ("VClip/Frames" folder) it's recommended to add VClip program folder to the Windows 10 defender allowed list. here is how http://windows.microsoft.com/en-us/windows-vista/add-or-remove-items-from-the-windows-defender-allowed-list
VClip design parallel processing (threading)
You don't have to read this part it's just for sharing thoughts behind VClip technical design. Capturing video is very intense demanding task especially with high fps for example when recording at 30 frames per second, VClip has to capture each video frame in less than 30 millisecond = 0.03 second, if VClip takes longer, the output video will not play smoothly and more important the loopback sound will not synchronize with the video, add to this the system overhead that occur when VClip is requesting high periodic resolution of the timer event with greatest possible accuracy, to over come all of that VClip divide the process of capturing a frame into different parallel/concurrent tasks with the objective of capturing a frame in less time possible, these divided tasks don't wait each other to finish but they do work together to capturing a frame in less time possible:
Two independent parallel tasks to capture frames and push it to memory so theoretically at 30Fps 0.03 capturing time limit becomes 0.06
A task to go after frames in memory, free frames from memory and write them to (hard disk "VClip/Frames" folder) this task is so slow, making it parallel add boost performance.
Parallel task to capture loopback audio.
Playing silence.wav in background to fill silence gaps with silence waves.
Main thread to run VClip Graphics interface and prevent freezing controls.

Software that apply multithreading/parallel/concurrent processing like VClip can take advantage of a multicore processor by running on more than one core at the same time.
I would like to hear from you, feel free to comment , criticize, suggest and support VClip :)