VClip is a simple and convenient tool for capturing short video clip + loopback audio (speaker sound) from your screen pixels and speaker waves.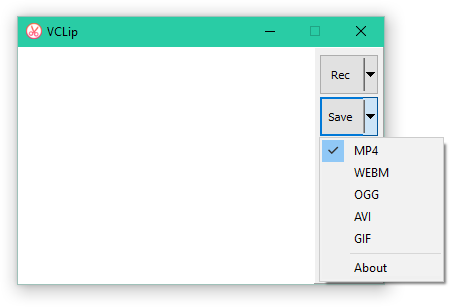 VClip can output to many format (MP4, WEBM, OGG, AVI, GIF), and comes with 3 fps options (15,25,30).
How to use VClip?
No much to say, VClip has a simple and intuitive user interface just aim, record and save :)
Compatibility and requirement
VClip Tested successfully on Windows 10, 7 (should work on 8.1, 8.0, vista but not XP), compatible with HiDPI screens and display scaling. The faster and more cores processor the better, because VClip can take advantage of a multicore processor by running on more than one core at the same time.
If you are on windows 10 it's recomended to add VClip program folder to the Windows 10 defender allowed list!?

Windows 10 defender (and other antivirus) slow the process of writing data to hard disk, by checking every data written, in case of VClip that's would slows the VClip process of freeing memory and writing frames into ("VClip/Frames" folder) it's recommended to add VClip program folder to the Windows 10 defender allowed list.
Version 2.0
Update on 15/July/2018
VClip version 2.0 is more stable and steady and it comes with good functionality and nice design:
Efficient and fast responsive editor for selecting frames range and viewing playback before encoding: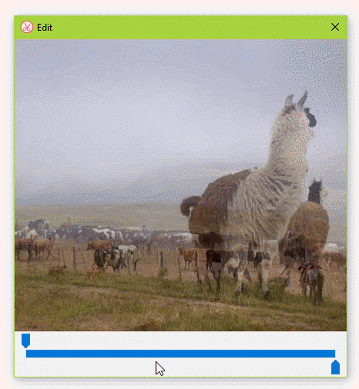 VClip editor implements a nice ticklish range selector control for video range selection.
Mute option for saving videos with silence: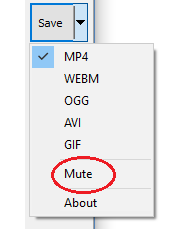 VClip 2.0 is dpi-aware application , it scales nicely on high resolution and scaled screen.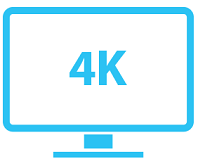 Showing recording area dimension in the titlebar:

Performance benchmarks monitor in real time: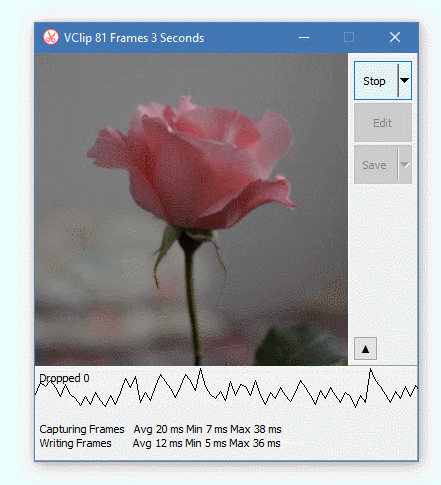 This benchmarks tool measures the smoothness of the recording process the more low/liner/pattern pulse line the more smoothness is the video result, also this tool indicate the number of dropped frames (frames not recorded in exact precious time, in this case the pulse line goes up the edge) and the tool shows the average, minimum and maximum speed of capturing and writing frames in milliseconds. The quality of recording depends on the hardware capability, the size of the recording area and the stability of the system while recording, like how much busy is the system running software and background tasks (notice the above gif example, the pulse line is high/jumpy/unpattern and has 1 dropped frame due to runing 2 screen recorders at the same time gifcam & vclip to generate the gif example , also the machine hardware I used for this task is not capable enough for this task). I wrote this tool internally while trying to boost the capturing performance, then I decided to add it in version 2.0 release, as any benchmarks tool it has its own overhead, but anyway I hope you find it helpful :)
Adding a list of all VCLip supporters in the About window: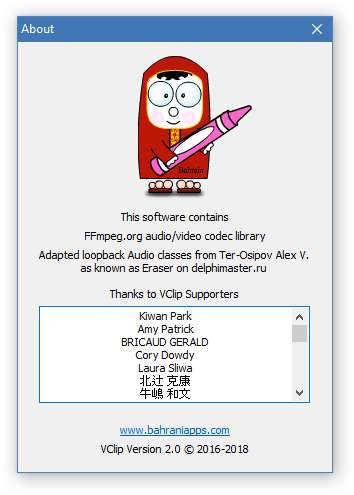 VClip is totally free, also your kind donation will help me develop this software for future updates :)
Download VClip.zip version 2.0 Size 13.9 MB VClip is portable software contains:
VClip.exe             main executable file
ffmpeg.exe          video/audio encoding library
silence.wav         silence waves file
Frames folder    for storing captured frames
I would like to hear from you, feel free to comment , criticize, suggest and support VClip :)